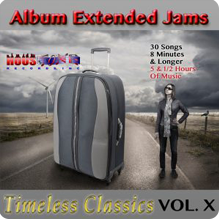 Timeless Classics Vol. X, Album Extended Jams – the latest CD from HousTone Records released November 25, 2016
Clásicos Sin Tiempo Vol. X, Álbum de los Mejores Éxitos – el último CD de HousTone Records, con próximo lanzamiento en Noviembre 25, 2016.
Timeless Classics Vol. X, Album Extended Jams from the Timeless Classics collection includes over five hours of music from all genres (Rock, R & B, Jazz, Funk, Classic Rock, Classical and Folk), music created for traveling, jogging, or just relaxing and enjoying; and can only be purchased on HousToneRecords.com.
Incluye más de 5 horas de música de todos los géneros, y solo puede ser adquirido en HousToneRecords.com
This volume includes perhaps the rarest and most unique collection of music ever released on a single CD. Con 30 canciones que no escucharás en la radio, de entre 8 a 21 minutos cada una. With 30 songs rarely played on the radio, if ever;  all in one CD, ranging from 8 to 21 minutes each, recorded in the 60's, 70's, 80's, 90's and 2000´s, originally recorded for albums only, as they are too long for regular radio airplay.
"It's a new approach to locating music you may enjoy and are not aware of, or simply forgot about," said HousTone general manager, Sirron Kyles. "Music lovers have a variety of technology options on how they can find and enjoy music today, this CD allows audiences to explore those options, to connect or reconnect with artists and music they may choose to add to their playlists, just by searching for artists and songs from the Timeless Classics collection."
"Los amantes de la música podrán encontrar a los mejores artistas y canciones en la Colección Clásicos sin Tiempo."
About HousTone Records
One of the key elements in working with all artists at HousTone Records is the artist must agree to record two well-known cover songs per CD. This allows many up-and-coming artists to be judged by fans for the talent they have, based on music the listeners already know. From these selections, we select songs that match the theme and release them to expose their music to the fans that want it, on each album we release.
HousTone Records: Making a difference by Marketing, Recording and Distributing One CD at a Time!
PO Box 8305
Houston, TX 77288
PH: 713-866-4009, EXT 2
E-Mail info@HousToneRecords.com
Download Full Album

$19.99Purchase